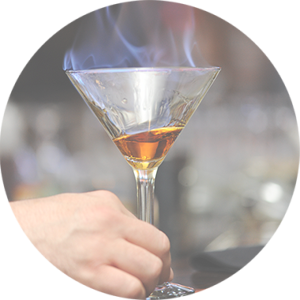 Peanuts Public House has been a home-away-from-home for folks both local and from far away for years. Offering genuine hospitality, excellent eats and a place guaranteed to always have the game on – whatever your sport may be – Peanuts welcomes everyone with its laid-back atmosphere and friendly feel.
An iconic Calgary sports bar hosted in the Carriage House Inn, Peanuts' legendary steak sandwich is served right off the grill, and can be partnered with any one of the 16 brands of ice-cold beer found on tap. Sixteen large-screen plus three huge 80-inch HD-TVs provide great views from everywhere in the bar.
Carriage House Inn, 9030 Macleod Trail SE, Calgary

MOLTO MONDAYS | $4 each
meatball madness – 4oz balls
all day
TEMPTING TUESDAYS | $3.75 each
truffle sliders
all day
WING-IT WEDNESDAY | 39 cent wings
all day
CRUSH THURSDAY | 1/2 price wine
bottle only
all day
FRENCH – FRYDAY | $14
truffle fries + french wine – 2 6oz glasses
all day
SINFULL SATURDAY | 39 cent wings + 1/2 price wine
bottle only
all day
SACRED SUNDAY | $9.5
steak + egg 6oz steak, house veg + potato
all day

Interested in knowing more about Peanuts Pub? Have questions for us?
Shoot us an email and we will be sure to get back to you.